Risotto with radicchio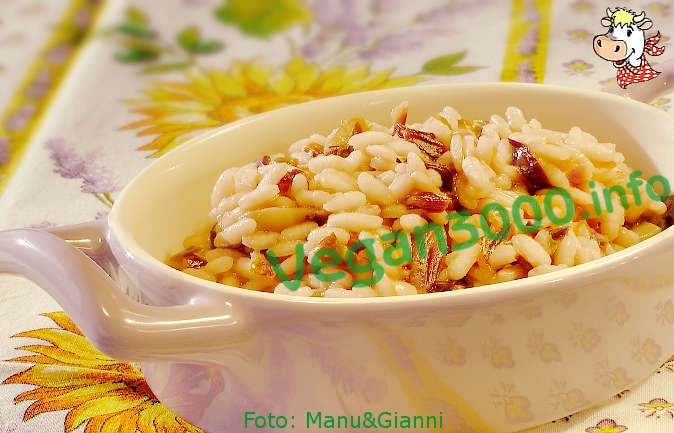 Disclaimer
This translation has been done by an automatic system, therefore we apologize if it isn't perfect. If you find any mistake or you have any suggestion for a better translation, please contact us.
Ingredients
For 4 people: 320 g rice-1 head radicchio-1 onion-1 glass of white wine (or champagne)-olive oil-vegetable stock
Instructions
Make a sauce with the oil, onion and chopped radicchio. Add the rice and the white wine, stirring thoroughly. Finally add the vegetable broth and finish cooking.
---
---
---
---
---
Your comments
a cottura quasi ultimata aggiungerei una manciata di parmigiano per amalgamare il tutto
- gi.fra -
@ gi.fra
Purtroppo la produzione di latte e formaggi comporta terribili sofferenze e l'inevitabile morte dei vitellini a cui viene sottratto, oltre a quella delle mucche stesse che, dopo pochi anni di intensissimo sfruttamento, vengono inevitabilmente avviate al macello.
Questo è un sito di ricette vegan, cioè
cruelty-free
e rispettose degli animali, di conseguenza non includiamo ingredienti cruenti nei nostri piatti.
Per approfondimenti ti segnaliamo un paio di articoli pubblicati su questo stesso sito:
Perché proprio vegan e non soltanto vegetariani?
e
Lettera aperta ai vegetariani
Invitiamo te e i visitatori del sito che non ne fossero a conoscenza a informarsi e a riflettere su questi aspetti e su quanta inutile ed efferata violenza ci sia in un apparentemente (ma solo apparentemente, appunto!) innocente bicchiere di latte o un pezzetto di formaggio.
Un caro saluto.
- Lo staff di Vegan3000 -
Al posto del parmigiano io uso il lievito disattivato per dare più sapore, invece per rendere più cremoso aggiungo della panna vegetale; oppure del tofu, che è insapore, per dare più proteine.
- Emanuela -