Sachertorte (3)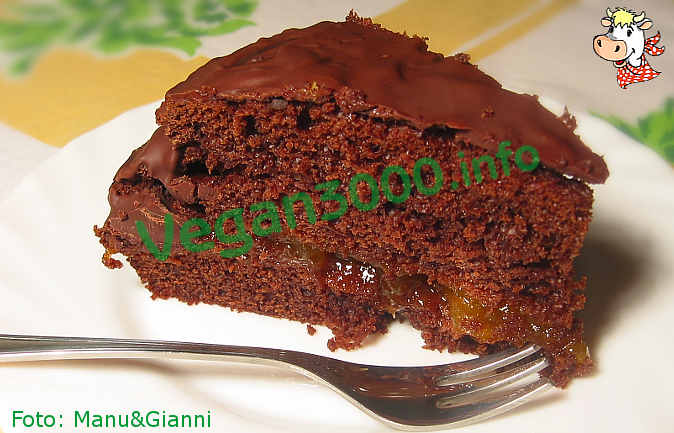 Disclaimer
This translation has been done by an automatic system, therefore we apologize if it isn't perfect. If you find any mistake or you have any suggestion for a better translation, please contact us.
Ingredients
For 4/6 people
For the sponge Spain: 60 gr margarine-60 g sugar-1/2 teaspoon baking soda-5 teaspoons of cocoa-120 g flour 00 for cakes-160 ml soy milk-65 gr cornstarch
For the filling and topping: 1 jar of raspberry jam-2 bars of chocolate bitter dark chocolate-1 tablespoon margarine
Instructions
Preparation of the NAP by Spain.
Sift the flour with the baking powder, baking soda, cornstarch.
Beat the margarine with the sugar, add the cocoa, flour, soy milk, stir all ingredients well using the whisk medium-speed electric; pour into a pan removable rim (about 22/24 cm in diameter), lined with parchment paper.
Preheat the oven to 150° C, bake and cook for about 20 minutes.
Check the cooking with a stick of wood, riding when stays dry the cake is ready.
Turn out the cake. When is still warm cut it horizontally (use a bread knife) and fill with the raspberry jam.
Chop the chocolate, put it in a saucepan with a tablespoon of soy milk and melt on low heat stirring carefully because it does not burn or stick.
When it is nicely melted remove from heat and add the tablespoon margarine slamming the mixture well.
Put the cake on a serving plate, cover it all, even the edges, with the melted chocolate and leave to cool.
To decorate you can use the syringe with a little melted chocolate cake and write Sacher on cake.
---
---
---
---
---
Notes
(Thanks to Maria Cristina C.)
Your comments
il pan di spagna si è letteralmente sbriciolato e ho dovuto ricomporre il "puzzle" una volta tagliato. mi è venuto in aiuto dopo il cioccolato fuso e il freddo del frigorifero che hanno compattato il dolce. ho sostituito inoltre la marmellata di lamponi con quella classica di albicocche e un pò di tempo in più per la cottura del pan di spagna. è venuta buonissima la torta!
- lucia -