Pasta with cream and zucchini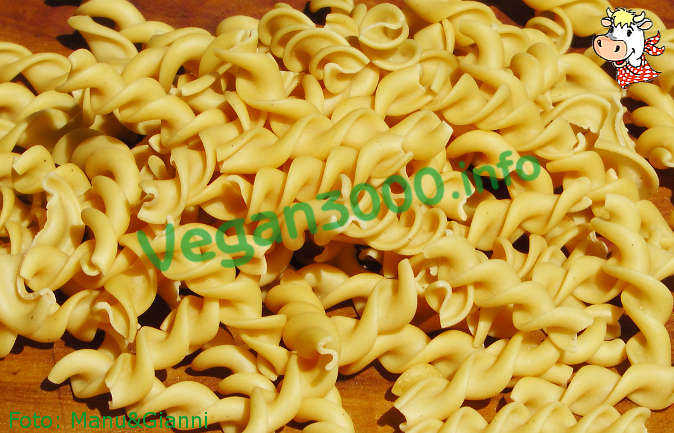 Disclaimer
This translation has been done by an automatic system, therefore we apologize if it isn't perfect. If you find any mistake or you have any suggestion for a better translation, please contact us.
Ingredients
For 2 persons: 200 g penne or fusilli-2 courgettes-80 grams of soy cream Provamel-2 cloves garlic-olive oil-salt-pepper-basil
Instructions
Wash and cut the zucchini into small pieces, removing the middle part.
Stufatele in a couple of tablespoons of extra virgin olive oil with cloves crushed garlic and a few leaves of basil.
When it is cooked, blend it all with cream.
Add salt and pepper, pour over a nice plate of penne or fusilli.
---
---
---
---
---
Notes
(Thanks to Quetzali)
Your comments
le zucchine meglio nn frullarle e farle scottare in burro e nn in olio ed aggiungere anche un po di provola
- fabio -
Grazie Fabio per il tuo commento, tuttavia desideriamo ricordare che né il burro né la provola sono vegan.
Chi li consuma contribuisce all'enorme sofferenza degli animali sfruttati e violentati per produrli, oltre alla loro inevitabile macellazione quando non sono più "produttivi".
A questo proposito per approfondimenti vi invitiamo a leggere:
Perché proprio vegan e non soltanto vegetariani?
Lettera aperta ai vegetariani
- Lo staff di Vegan3000 -
Concordo con fabio
- Chiara -
PER STUFARE IO AGGIUNGO ANCHE UN Pò DI CIPOLLA E INSIEME ALLE ZUCCHINE METTO QUALCHE POMODORINO
- MARY -
io al posto dell aglio soffriggo cipolla e non frullo gli ingredienti
- patty -
Dopo aver provato questo piatto che sembra banalissimo.. ogni vlta che lo preparo, riscuoto un incredibile successo !! provatelo anche voi !!!!
- FABIO RENDA -
FABIO RENDA HA PROVATO QUESTA RICETTA.. DEVO DIRE CHE SEMBRAVA BANALISSIMA, MA OGNI QUALVOLTA PREPARO QUESTO PIATTO RISQUOTO UN NOTEVOLE SUCCESSO... ANCORA GRAZIE FABIO RENDA
- FABIO RENDA -
FABIO RENDA, trova che questo piatto è a dir poco.. favoloso..
- FABIO RENDA -
FABIO RENDA NON FRULLEREBBE L'AGLIO MA LO TOGLIEREBBE UNA VOLTA DORATO
- FABIO RENDA -
Have you tried these recipes?
Have you read these news?