Tart pastry by Mama Orsola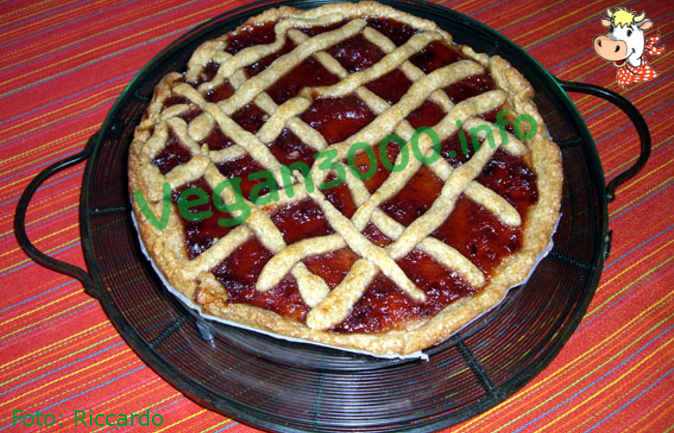 Disclaimer
This translation has been done by an automatic system, therefore we apologize if it isn't perfect. If you find any mistake or you have any suggestion for a better translation, please contact us.
Ingredients
250 g wholemeal spelt flour
125 g brown sugar
plum jam to taste
1 tablespoon oil
125 g margarine
1 grated lemon rind
0.25 glass of soy milk (evaluate whether to add or decrease the amount based on the strength of the flour)
1 pinch salt
Instructions
Mix the sugar with the margarine using a bowl and a wooden spoon, add the oil, lemon zest and salt, add the flour little by little adding milk as needed.
Transfer the mixture onto a sheet of parchment paper, roll it out with a rolling pin by putting aside a little piece for the strips, arrange in the baking pan, put the jam and garnish with strips of dough.
Bake at 180° C for 30 minutes: when it's ready you feel the perfume, enjoy.
---
---
---
---
---
Notes
Thanks to Riccardo Gabbanelli
Your comments
Sulla crostata cruda, prima di metterla in forno, uso sempre frutta fresca bio.Una volta cotta, verso sul dolce una crema pasticcera vegan al cioccolato fondente.
- renata piazza -
Io ho provato a sostituire il latte di soia con il latte di mandorle.Una meraviglia dal mio punto di vista e non potendo mangiare soia e derivati.
- raffaella -