Tortelli di San Giuseppe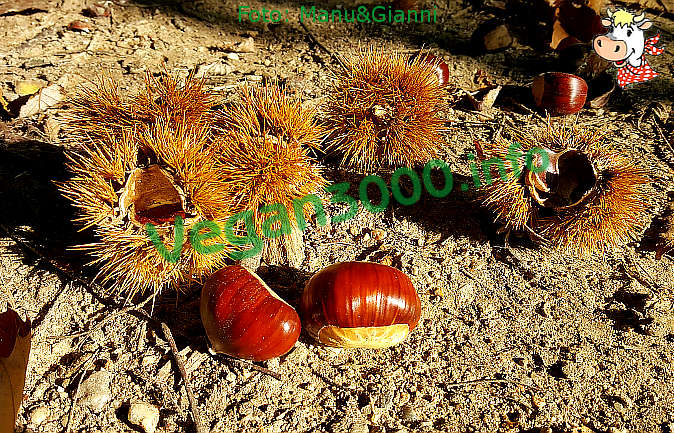 Disclaimer
This translation has been done by an automatic system, therefore we apologize if it isn't perfect. If you find any mistake or you have any suggestion for a better translation, please contact us.
Ingredients
For the dough:
300 g wholemeal flour
1 tablespoon cornstarch
50 g margarine
100 g sugar
1 pinch of salt
1 pinch of baking soda

For the filling:
300 g dried chestnuts
3 tablespoons unsweetened cocoa powder
150 g sugar
grated zest of 2 oranges
1 tablespoon of ground coffee
3 tablespoons cognac
soy milk
100 g of jam of your choice
50 g hazelnuts
1 pinch of vanilla
Instructions
Boil the chestnuts in one part water and one part soy milk with the addition of vanilla, 2 tablespoons sugar and cognac.
When chestnuts are soft mash them with a potato masher into a bowl, add cocoa, sugar, orange zest, toasted chopped hazelnuts before then, the coffee and the jam.
Mix everything well and prepare the dough as follows:
Sift the flour on a cutting board, add the cornstarch, baking soda, sugar, a pinch of salt and margarine; mix everything and, if necessary, add water.
Roll out the dough with a rolling pin until you have a browse rather thin.
With a glass in large diameter (about 7 cm) training rounds and fill them with abundant portions of dough; close them, then, herringbone and bake for 15 minutes, checking the cooking, to 180° C.
In the final stage of cooking start the grill.
---
---
---
---
---
Notes
(Thanks to Valentina B.)