Curried lentil soup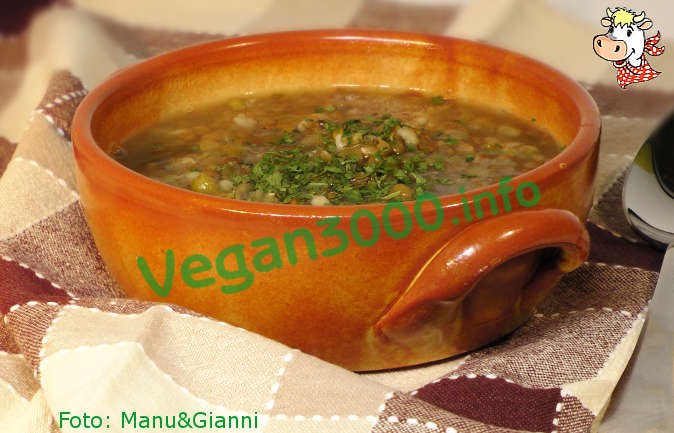 Disclaimer
This translation has been done by an automatic system, therefore we apologize if it isn't perfect. If you find any mistake or you have any suggestion for a better translation, please contact us.
Ingredients
For 4 people
380 g lentils (mignon)
2 litres of vegetable stock
2 large onions
1 carrot
some celery leaves
the juice of 1/2 lemon
1 tsp ground coriander
1 pinch of cumin
1 pinch of cayenne pepper
2 cloves garlic
pepper to taste.
salt to taste.
oil to taste
homemade bread
Instructions
In a very large pan soffriggi an onion until it becomes soft.
Now add the coriander, cumin, garlic and pepper and let Cook for 1 minute.
Then add a grated carrot, chopped celery leaves and lentils.
Put the vegetable broth and let Cook for about 35/40 minutes or until lentils are not overcooked.
Towards the end of cooking, in a separate pan soffriggi the other onion for about 5 minutes.
When cooked, add the lemon juice, pepper and sautéed onion plus some chopped celery leaf not to garnish.
Servants accompanying with homemade bread toasted and topped with a drizzle of olive oil and a sprinkling of pepper.
---
---
---
---
---
Notes
(Ricetta segnalata da Elenina
e tratta dal ricettario "Oggi Cucino Io. Vegetariano")
Have you tried these recipes?