Churros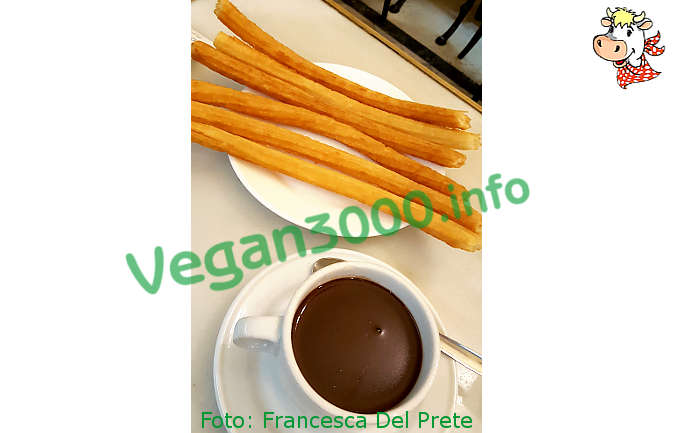 Disclaimer
This translation has been done by an automatic system, therefore we apologize if it isn't perfect. If you find any mistake or you have any suggestion for a better translation, please contact us.
Ingredients
250 g flour
300 ml water
1 tablespoon coarse salt
olive oil
sugar
Instructions
Boiling salt water.
Place the flour and pour in the boiling water.
Stir vigorously until you get a smooth and homogeneous, cool in the refrigerator.
Heat oil in a pan.
Place the dough into a pastry bag with a star nozzle. Press into a 20 cm thick cord.
With your fingers grasp the bottom end and merge it with the upper one forming an oval.
Put the churro in hot oil and fry a few at a time.
When they are golden, pick them up with a slotted spoon and place them on paper towels.
Sprinkle with sugar and serve with hot chocolate.
---
---
---
---
---
Notes
Ricetta tradizionale spagnola
(da "Consumatori" N.10 - dicembre 2005, il mensile dei soci Coop)
Your comments
mia cugina se ne è mangiati assai
- nunzia -
secondo me, chi ha scritto che la ricetta è schifida deve imparare a cucinare, perchè è una ricetta molto conosciuta e molto buona.
- Duarte Marcia -
Io l'ho provati per la prima volta all'eurochocolate,mi sono piaciuti da matti!!!!!!
- isabella -
è buonissima nessuno può dire ke fa schifo:lo dicono anke gli spagnoli hola ........feliz navidad...........ano nuevo
- chiara -
è buonissima *_________________* io li mangiavo al mattino quando ero in Spagna *_*
- -
oddio che buoni..i migliori churros li fanno a Sevilla!!
- Noellie -
io li ho assaggiati nella mia città a palermo. infatti hanno aperto una churreria e sono davvero ottimi. più ne mangi e più ne vuoi mangiare. ottimi anche con la crema ai frutti di bosco oltre che con la cioccolata calda.
- laura -
sono bunissimi se non raccolgono tanto olio e comunque li facciamo per eurochocolate
- yaiza -
Io ho provato a farli con la farina senza glutine e sono venuti benissimo. quindi si possono inserire tra i piatti gluten free !
- Antonella -
Come mai trovo nel sito la pubblicità della Timanzo che offre carne succulenta con addirittura il 10% di sconto???
- Anonimo -
Caro anonimo, la pubblicità che viene visualizzata non dipende da noi ma si basa su Google AdSense e sui cookies del browser con cui stai navigando sul nostro sito. In effetti a noi non è mai successo di vedere pubblicità di quel tipo! In ogni caso Google AdSense ti permette di filtrare le pubblicità che desideri o non desideri visualizzare.
- Lo staff di Vegan3000 -