Brown rice (basic recipe)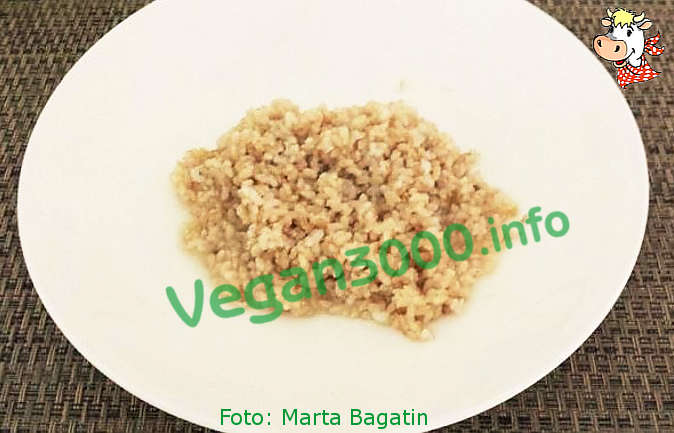 Disclaimer
This translation has been done by an automatic system, therefore we apologize if it isn't perfect. If you find any mistake or you have any suggestion for a better translation, please contact us.
Ingredients
Brown rice (about 80-100 grams per person)-salt uncut (for 1 kg of rice, 1 tablespoon of salt to be dosed proportionally)-water (by volume twice the rice, eg 2 cups of water per cup of rice)
Instructions
Wash the rice and place in a pressure pot with salt and water for cooking: two parts water for each portion of rice.
Cook the rice for 25 minutes from the whistle, low heat, using a net flame spreader.
When the cooking is finished, turn off the heat and let the pot on the stove again for about 10 minutes.
Using a regular pot, cooking is not necessarily longer, which is approximately 45-50 minutes.
---
---
---
---
---
Your comments
il riso int.va cotto x50 min. anche in pentola a pressione.con volume acqua di1 e1\2rispetto al riso un pizzico di sale x tazza cosi ha più energia
- fiorenzo -
ci vogliono realisticamente 2 ore di pentola normale, 1 ora di pentola a pressione!
- x -
io ho seguito la ricetta: 25 minuti di pentola a pressione. poi l'ho aperta, aggiunto del passato di pomodoro (e un altro pochino di sale), e cotto ancora 10 minuti a fuoco basso. E' venuto perfetto.
- marzia -
se lo fai cuocere per 50 minuti in pentola a pressione ci puoi fare i cataplasmi!!!!
- wiola -
hai ragione wiolA
- GIANCA -
ottimo...e si risparmia tempo; se lo si preferisce più cotto aumentare di un 20 per cento l'acqua
- piera -
se non si sa usare la pentola a pressione cucinarlo normale...è ottimo anche senza condimenti particolari
- piera -
Ottimo! Ho seguito la ricetta alla lettera ed è venuto perfetto. Grazie dei consigli !!
- Marta -
Io cuocio il riso integrale in pentola a pressione per 15 minuti ,alla pressione massima ; è ottimo cucinato con le lenticchie rosse decorticate !
- Stefania -
Salve, ho provato a cuocere il riso integrale come da voi indicato ma la quantità di acqua non mi torna, è infatti troppo poca: per 80 g di riso ho dovuto infatti usare 400 ml di acqua, se no avrei bruciato tutto! Vi invito quindi a verificare voi stessi la dose. P.S ho usato la pentola a pressione, mentre per quella normale a fondo spesso sono stati necessari 470 ml di acqua (sempre per 80 g riso). In attesa del vs riscontro invio cordiali saluti
- Libe -
@Libe, le dosi riportate sulla ricetta ci risultano corrette. Tra l'altro sono confermate anche da altri commenti.
- Lo staff di Vegan3000 -
Have you tried these recipes?