Risotto with mushrooms and artichokes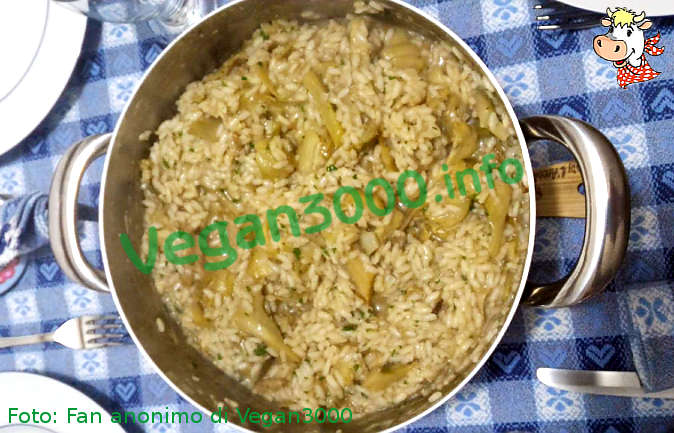 Disclaimer
This translation has been done by an automatic system, therefore we apologize if it isn't perfect. If you find any mistake or you have any suggestion for a better translation, please contact us.
Ingredients
For 4 people: 350 grams of rice-2 artichokes-200 gr of mushrooms-1 small onion-1 sprig of parsley-1 clove of garlic-1/2 cup dry white wine (optional)-4 tablespoons of extra virgin olive oil-salt-pepper- vegetable stock
Instructions
Thoroughly clean the artichokes by removing the outer leaves and tough. Cut off the tips and cut into wedges.
Clean the mushrooms and remove the Earth any and all impurities. Then rinse quickly under running water using a colander. If they are not already cut into thin slices.
Peel and chop the onion finely, then Sauté in a couple of tablespoons of boiling oil. Add the artichokes into wedges and FRY briefly, salandoli and pepandoli to your taste.
Add the rice and let it season quickly, stirring with a wooden spoons. Add the wine and let it evaporate. Then add the brotha little at a time, stirring occasionally.
Meanwhile clean and finely chop a clove of garlic (or, if you prefer, leave it whole and take it out later). Heat 2 more tablespoons of oil in a pan, add the garlic, heat and as soon as it sizzles add the mushrooms. Stir and cook over high heat for a few minutes, add salt and pepper.
Towards the end of cooking add the risotto and mix them. When the rice is al dente, add the chopped parsley, mix and serve.
---
---
---
---
---