Oatmeal cake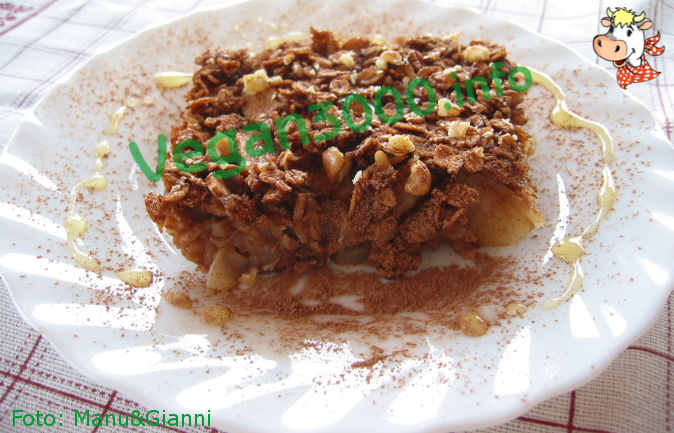 Disclaimer
This translation has been done by an automatic system, therefore we apologize if it isn't perfect. If you find any mistake or you have any suggestion for a better translation, please contact us.
Ingredients
750 ml Apple juice-1 pinch salt-250 g of grated rind of 1 small oatmeal-organic Lemon-1 pinch of vanilla powder-2 large organic apples-2 TBS raisins-2 tablespoons chopped hazelnuts
Instructions
A delicious cake with no animal products and no sugar!
... Despite this is sweet and deliciously enjoyable!
Must try!

Boil the Apple juice with a pinch of salt.
While the juice it takes to boil, grate the lemon zest.
When the juice bubbles add oatmeal and turn off the heat.
Stir and let stand for about 10 minutes until the flakes have absorbed completely the Apple juice.
Meanwhile, cut the apples into cubes, after removing the core (if you use organic apples you can also use the Peel, after washing).
When the flakes have absorbed the juice (the dough should be soft, not liquid but not hard), add the diced Apple, raisins, one tablespoon of chopped hazelnuts (the second you'll use it to garnish the pie just before infornarala), grated lemon peel and vanilla.
Put the dough in a baking dish or even directly on the baking sheet, making sure to use the wax paper so that it doesn't attack.
Roll out the dough and place in a hot oven for 40-45 minutes at 180° C, until it forms a nice golden crust.
Before baking sprinkle the surface with the hazelnuts.
---
---
---
---
---
Notes
Thanks to Emanuela Barbero, webmaster di Vegan3000 e autrice di libri di cucina vegan
Your comments
sinceramente ero un pò scettica invece la torta è veramente molto buona!!
- Cristina -
La proverò sicuramente Poiché non posso mangiare mele si può sostituire con altra frutta? Albicocche o pere? Grazie
- Marina -
Marina, puoi sicuramente provare a sostituire le mele con dell'altra frutta! Le pere poi vanno benissimo! Enjoy !! :-)
- Lo staff di Vegan3000 -