Dumplings with Treviso radicchio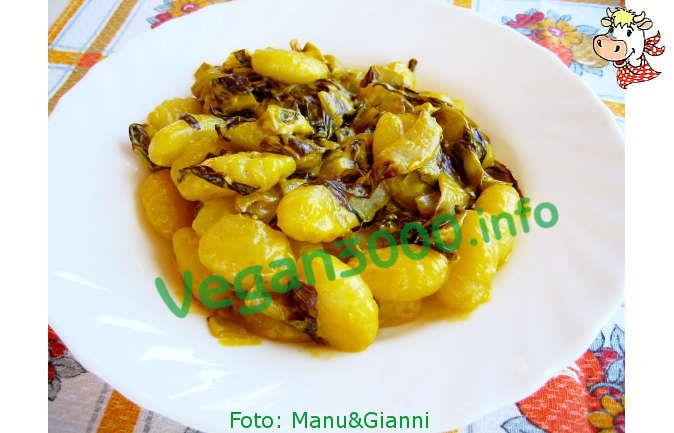 Disclaimer
This translation has been done by an automatic system, therefore we apologize if it isn't perfect. If you find any mistake or you have any suggestion for a better translation, please contact us.
Ingredients
For 4 people: 1 kg of vegan dumplings-2 heads of Treviso radicchio-250 ml soy cream-2 sachets of saffron-corn oil (or margarine)-salt-pepper
Instructions
Wash, peel and cut the radicchio into strips and pass it in a pan with two tablespoons of corn oil or a pat of margarine.
Cook the gnocchi in boiling salted water and pick them up from the water with a slotted spoon as they float to the surface.
Pour the soy cream and saffron in the pan together with chicory, saffron mixing well with a wooden spoon, possibly by adding a tablespoon of water.
Add the drained dumplings with salt and pepper, reduce heat and continue to stir-fry for two minutes.
Yummmmmmmm!
---
---
---
---
---
Notes
(Thanks to Quetzali)