Vegan muffins with the flavour of panettone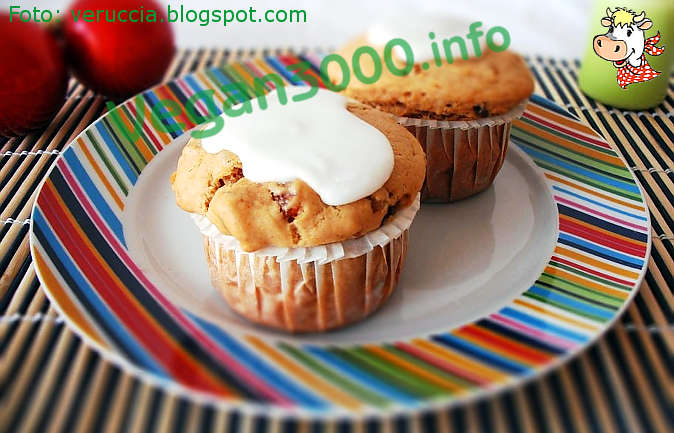 Disclaimer
This translation has been done by an automatic system, therefore we apologize if it isn't perfect. If you find any mistake or you have any suggestion for a better translation, please contact us.
Ingredients
For 8 people
500 g flour 00
20 g of cream of tartar
350 g raisins
150 g candied fruit (Orange and citron)
200 g brown sugar
100 g of olive oil
100 g corn oil
180 ml milk vegetable
orange flavour
For the icing
80 g icing sugar
1 teaspoon of water with a few drops of Orange flavoring
Instructions
Heat oven to 190° c.
Sift the flour and cream of tartar in a large container. Add the raisins and the candied fruit and stir.
Separately, dissolve the sugar in the milk, add the Orange aroma and the two oils and mix well.
When the oven is hot, pour the liquid ingredients over solid ones, mix together without mixing them too, pour the mixture into the muffin tins and bake for about 25 minutes.
When they are cooked, turn off, slightly open the door and let the muffins in the oven again for 5 minutes.

Prepare the frosting
Stir the water to sugar, a little at a time, until creamy smooth but very consistent. The mixture in a thin layer over the muffins and let solidify outdoors. Decorated, if you wish, with toasted almond slivers.
---
---
---
---
---
Notes
Thanks to Vera Ferraiuolo - veruccia.blogspot.com