Mayonnaise with soy cream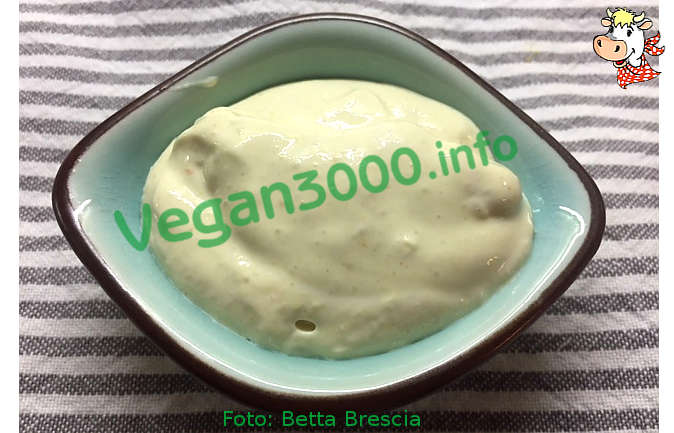 Disclaimer
This translation has been done by an automatic system, therefore we apologize if it isn't perfect. If you find any mistake or you have any suggestion for a better translation, please contact us.
Ingredients
Ingredients
2 tablespoons soy cream
about 50 g of soybean oil or extra virgin olive oil
fine table salt
1 pinch garlic powder
1 tablespoon of Apple Cider vinegar

N.B. If you need to compensate for the color add a pinch of Saffron or turmeric powder

Utensils
Hand mixer or immersion Blender (I used the immersion Blender)
a high-sided Bowl or blender container
a dispenser for oil drip into the Bowl: mayonnaise must fall at most flush but fine!
Instructions
Pour the cream into the bowl and operate the hand blender, keeping the speed OPTION for ALL the PREPARATION.
While emulsify pour the oil drop by drop, using a beaker: the thickening takes place after about 5 minutes.
Paid, just now and always at Blender started, vinegar, salt and garlic ... and if you want to get a color more yellow together even a pinch of Saffron or turmeric powder.
When the mayonnaise is ready, the texture and the color you want, then in a jar and store in the fridge.
It is better to make a little whenever you need it, in 5 minutes it is ready and you keep 4 days in the fridge.
The color is similar to the mayonnaise with yogurt that you buy at the supermarket.
---
---
---
---
---