Tabouleh Harlequin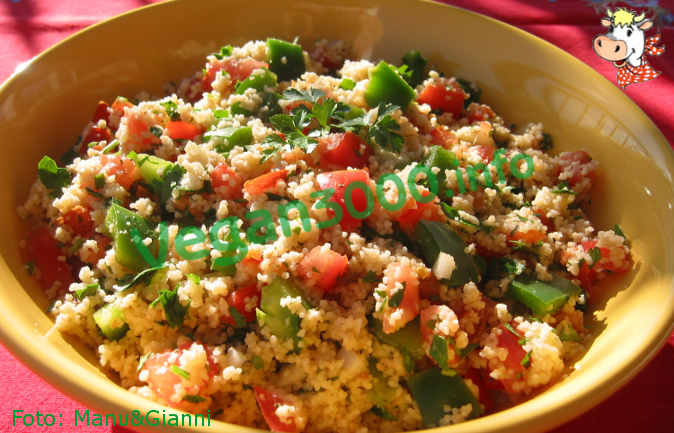 Disclaimer
This translation has been done by an automatic system, therefore we apologize if it isn't perfect. If you find any mistake or you have any suggestion for a better translation, please contact us.
Ingredients
100 gr. couscous apiece-100 gr. carrots julienne-tomatoes to taste-1 Onion-red and green peppers to taste-100 gr. corn-lemon juice and pulp-oil-vinegar-pepper-peas-dried mint-raisins
Instructions
Soften the couscous (which is usually precooked) pour boiling water over them (about 1 1/2 cup each) and cover with a cloth.
After 2 minutes turn on everything and cover. Beware that on the bottom do not form a single block. Couscous softened va jumped briefly in a pan with olive oil well with a fork to separate the grains.
Diced tomatoes, onions and peppers reduce and combine the grits and cooled.
Empty the pulp that lemon is added directly to the wart and the rest (in order not to lose the juice coming out * shaking him down * lemons), merge the rest of the vegetables and season with dried mint that you will undo with hands, raisins, oil, vinegar, salt, pepper, according to your taste.
---
---
---
---
---
Notes
(Thanks to Quetzali)