Potatoes and cabbage curry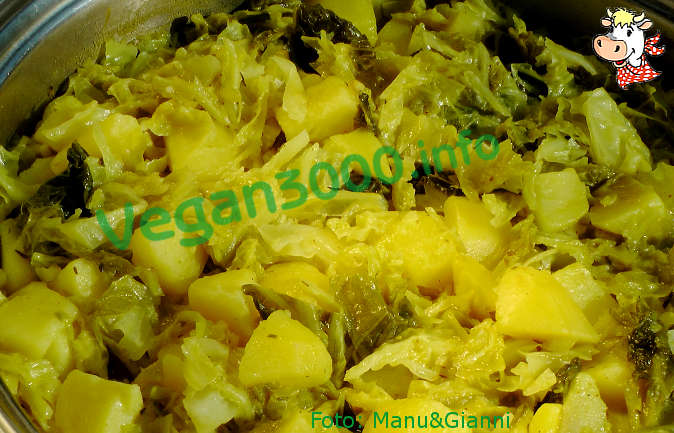 Disclaimer
This translation has been done by an automatic system, therefore we apologize if it isn't perfect. If you find any mistake or you have any suggestion for a better translation, please contact us.
Ingredients
For 4 people
400 g potatoes
400 g white cabbage
1 onion
2 tablespoons corn oil or sunflower oil
1/2 cup of soy milk
1 teaspoon curry
salt
Instructions
Peel the potatoes, cut into small pieces and cook in steam using the basket for about 20 minutes, until they are soft.
While the potatoes are cooking, peel the cabbage and cut it into strips, then scald them in boiling water for a few minutes and drain.
Peel and chop the onion.
Do solder the oil in a large pan, add a generous teaspoon of curry powder to the hot oil (making sure not to smoke), let it give off the aroma then add the chopped onion.
Brown over low heat without letting it burn, then add the cabbage cut into strips, mix well and add the potatoes into small pieces.
Pour the soy milk and stir thoroughly.
Add salt and cook over medium heat for a few minutes until the milk has been absorbed completely.
---
---
---
---
---
Notes
Ricetta di Emanuela Barbero, webmaster di Vegan3000 e autrice di libri di cucina vegan

Pubblicata nel volume "VEGAN - la nuova scelta vegetariana per il corpo, la mente, il cuore", a cura di Progetto Vivere Vegan, Giunti 2005