Andalusian gazpacho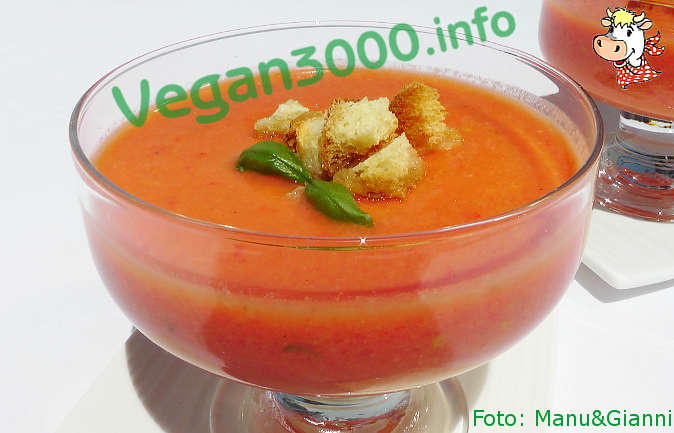 Disclaimer
This translation has been done by an automatic system, therefore we apologize if it isn't perfect. If you find any mistake or you have any suggestion for a better translation, please contact us.
Ingredients
For 6-8 persons:
1 kg of ripe tomatoes
1 cucumber
1 green pepper
1 onion
3 cloves of garlic
200 g of stale bread
about half cup of extra virgin olive oil
2 or 3 tablespoons of vinegar
salt
pepper
Instructions
Gazpacho is a refreshing Spanish cold soup that has many variations; We propose that Andalusian, one of the most popular traditional versions.
Cut the bread into small cubes and keep someone aside to be toasted in the oven or in a pan to garnish then individual glasses (or bowls).
Soak the rest of bread in a little water with oil and vinegar.
Clean all the vegetables and cut them into pieces.
Blend all ingredients, including the bread that you have soaked in oil and vinegar, until you get a creamy consistency.
Season with salt and pepper.
If you prefer, remove the seeds and any residual tomato peel, passed with a large colander: this will produce a more smooth and homogeneous.
Refrigerate for a few hours, because this dish should be served well chilled!
Serve in cups or in soup plates with some toasted bread cubes.
---
---
---
---
---
Notes
Thanks to Emanuela Barbero, webmaster di Vegan3000 e autrice di libri di cucina vegan