Chocolate salami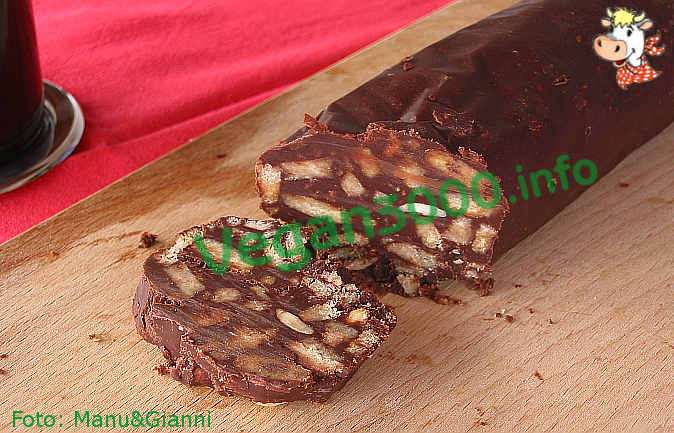 Disclaimer
This translation has been done by an automatic system, therefore we apologize if it isn't perfect. If you find any mistake or you have any suggestion for a better translation, please contact us.
Ingredients
200 g dark chocolate
150 g of gianduia chocolate vegan with whole hazelnuts
150 g of biscuits vegan
200 g margarine vegan
1 handful of almonds and pine nuts
Instructions
Melt the dark chocolate in a pot, gianduia and margarine.
Crumble coarsely and add melted cream cookies with pine nuts and almonds.
Grease a sheet of aluminum foil with margarine and pour the dough by rolling like a salami.
Store it in the freezer for at least 3 hours, then pull it off and keep it in the fridge or, if served immediately, at room temperature.
Serve in slices.
Once thawed the s can be kept in the fridge. Not ricongelatelo.
---
---
---
---
---
Notes
Thanks to Michela Talon
Your comments
Ho aumentato la dose di biscotti, omesso l'uso della margarina (è già abbastanza grassa così) ed inserito ca. 20 gr di cacao amaro in polvere...
- Mauro -
nella mia famiglia nessuno è vegan, pero' la mia bimba di 2 anni è allergica a latte e uova e comincia a guardare i piatti degli altri...questa volta guardava nel suo! troppo buono anche solo con cioccolato amaro.
- giorgia -
Abbiamo provato l'alternativa consigliata da Mauro, senza utilizzare la margarina, ma secondo noi il salame rimane troppo duro, probabilmente un pochino di margarina aiuta a migliorare la consistenza.
- Lisa e Claudio -
ammorbidisci i biscotti con un caffè d'orzo per diminuire la quantità di maragarina
- raffaela -
buonissima ma un po' sbriciolosa.. le fette si rompevano...era un po' secco...
- morghy -
Davvero buonissimo,facile e veloce per di più! se ci sono riuscita io!
- Eliana -
È buonissimo, ho solo fatto una piccola modifica: ho messo meno margarina, poco più di 100g. Ha avuto successo!! Complimenti per il sito, è davvero molto carino!!
- Giorgia Navone -
Ho usato 1 cucchiaio di ghee vegetale al posto della margarina, ho aggiunto qualche nocciola in più; penso che anche senza il gianduia si può fare (ho avuto difficoltà a reperire un gianduia senza latte), aumentando la quantità del cioccolato fondente e unendo nocciole. Cmq, è stato un successone! Grazieeeee!!!
- FrancescaB -
Have you tried these recipes?
Have you read these news?