Strangozzi with asparagus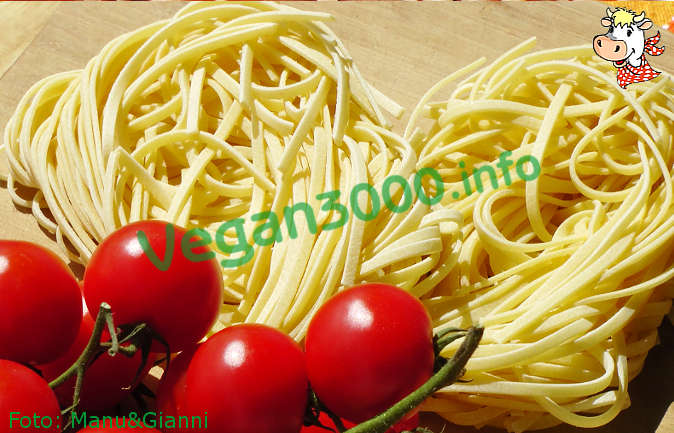 Disclaimer
This translation has been done by an automatic system, therefore we apologize if it isn't perfect. If you find any mistake or you have any suggestion for a better translation, please contact us.
Ingredients
For 4 people: 350 grams of strangozzi-250 gr of peeled tomatoes-a bunch of asparagus-1 clove of garlic-chili-1 2 or 3 tablespoons of extra virgin olive oil-Salt
Instructions
Wash asparagus and separate the tips from the stem, then boil in water, which will be used later for cooking pasta, asparagus stalks for at least 45 minutes.
Pass the tomatoes with the blender or mix for a few seconds, without reducing them in past but finely spezzettandoli.
FRY in a pan the oil with the garlic until his imbionditura (for those who don't like the taste of garlic can now remove it), then add the asparagus, tomatoes, salt and pepper, and cook the sauce, but not overly, in fact the tomato should not be overcooked.
Remove from the water the asparagus stalks and cook the pasta, making sure to cooking because strangozzi cooks in minutes and have to stay well to the tooth.
Once cooked put in the pan with the sauce, if desired, add more olive oil and serve hot.

Variant:
Instead of asparagus stalks you can use those artichokes.
In this case remove the wires carefully from the stalks, then cut into thin slices and cook in a little oil: at this point are perfectly edible and I would even say very good!
If you add the tomatoes, salt and pepper and cook it long enough, you get a special sauce.
You can also Cook the artichokes with the whole head, cutting them into strips.
---
---
---
---
---
Notes
Gli strangozzi o strengozze (dialettale) sono una tipica pasta della nostra zona, fatta con farina e acqua, di forma simile ad una tagliatella ma con lo spessore dello spaghetto alla chitarra; a Terni assumono la denominazione di "ciriola".
(Thanks to Nicoletta di Spoleto - PG)