Spelt pasta and beans soup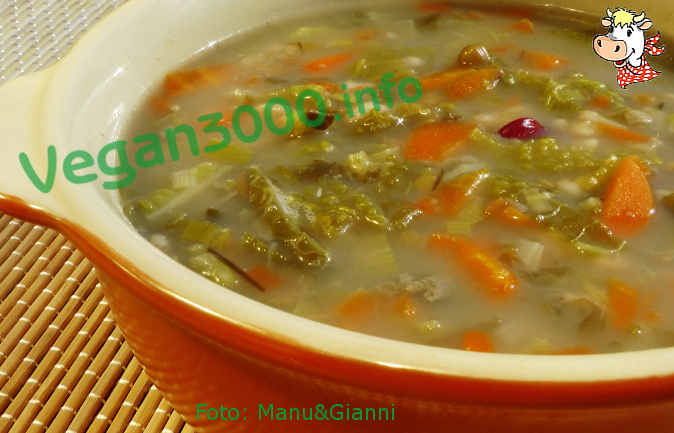 Disclaimer
This translation has been done by an automatic system, therefore we apologize if it isn't perfect. If you find any mistake or you have any suggestion for a better translation, please contact us.
Ingredients
For 3-4 persons: 70 grams of pasta small spelt-chickpeas (1 jar)-beans or lentils (1 jar)-organic parsley fresh or frozen (1 cup)-3 tablespoons of linseed oil-3 tbsp wheat germ-2 or 3 teaspoons of ' garlic ' vegan cream (optional)-extra virgin olive oil-Salt
Instructions
Using an immersion blender or a food processor, blend chickpeas, until you get a creamy sauce.
Grease just a pan with a drizzle of extra virgin olive oil, heat, add the cream of chick peas and the bean jar (or lentils).
Mix well and add ingredients to flavor about doing 500 ml water, besides water jars of beans used.
UN 70 g of spelt pasta and cook for about 30 minutes. Towards the end of cooking, add salt.
When the cooking is finished (the soup must remain fairly dense) add a nice cup of parsley, linseed oil and wheat germ; eventually (for those who appreciate the garlic) join two or three teaspoons of garlic cream vegan (generally found in organic and natural food stores).
---
---
---
---
---
Notes
(Thanks to Simonetta)
Have you tried these recipes?
Have you read these news?