Chestnut soup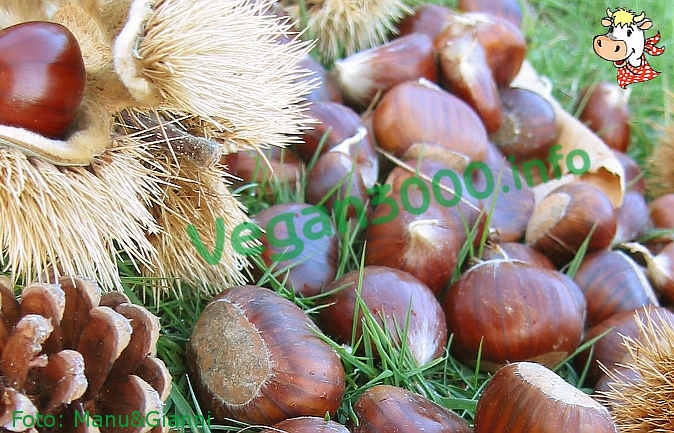 Disclaimer
This translation has been done by an automatic system, therefore we apologize if it isn't perfect. If you find any mistake or you have any suggestion for a better translation, please contact us.
Ingredients
For 4 people: 2 large potatoes-1 pack of mushrooms-1 large handful of chestnuts-1 clove of garlic 1 carrot-onion-garlic oregano -1-parsley-estragon
Instructions
Saute onion, one clove of garlic and a carrot, minced Fini, with a little oregano, parsley and tarragon.
Add the mushrooms, straight out of the box if frozen or cut slices and cleaned if fresh.
While the mushrooms are cooking, put to boil in a small Pan chestnuts bollendole for 20 minutes if they are fresh, or just reidratandole if you are dry.
While the chestnuts are cooked and lightly fry the mushrooms (be careful not to make them dry!), Peel the potatoes and cut into very small pieces, by adding them to the fungi.
During cooking, gradually add a little hot water (you have prepared on a stove), so keep all liquid, and a little salt to taste (shortly, if you have plan on adding miso to the end of cooking) or even a bit with nut.
At this point, the chestnuts should be boiled.
Drain, peel them (Yes, even thin whelk; better to do so when they are still warm, it's easier) and add as they are naked to the soup.
When you have added all the chestnuts, let it cook for a twenty minutes or more, depending on the pot and your taste, season of salt, add a pinch of pepper and serve after adding a wire of oil.
---
---
---
---
---