Spelt crêpes with chards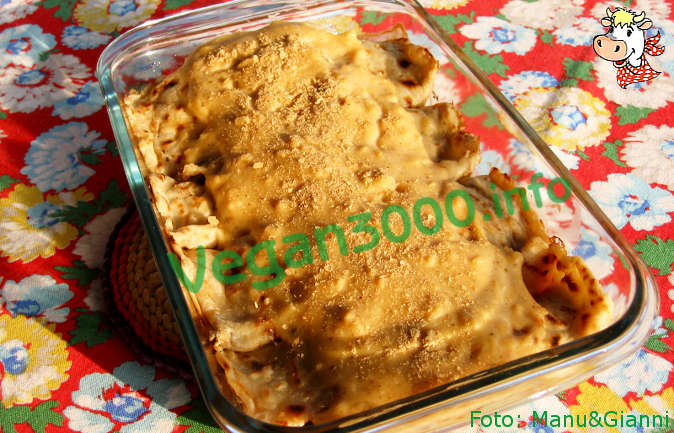 Disclaimer
This translation has been done by an automatic system, therefore we apologize if it isn't perfect. If you find any mistake or you have any suggestion for a better translation, please contact us.
Ingredients
For 4 people

For the crêpes
200 ml milk, spelt
100 ml of water (preferably sparkling)
150 g of spelt flour
50 g of flour
1 tablespoon of extra virgin olive oil
salt
1 tablespoon sesame seeds (for cover)

For the filling
500 g of chards (or kale or spinach)
200 g of tofu to the natural
100 ml soy cream
1 tablespoon of extra virgin olive oil
salt

For the sauce
0.5 liter of soy milk naturally
2 tablespoons extra virgin olive oil
2 tablespoons flour
a pinch of nutmeg
salt
Instructions
Preparation of crêpes
Mix the two flours, add the vegetable milk and cold water (preferably sparkling), add salt, beat with a whip and let sit while you prepare the filling and the sauce.

Preparation of the filling
Trim the chards, cut them into strips and toss in a pan with a little oil and a pinch of salt. Add a few tablespoons of water and cook about 10 minutes with the lid, checking from time to time that the water does not dry too.
While baking schiacciae tofu with a fork, add the cream and a pinch of salt.
When the herbs are cooked, add the tofu to the pan and stir well: your filling is ready.

Preparing the sauce
Turn on the heat and pour about one cup of soy milk in a thick-bottomed pot high and narrow.
Add a tablespoon of flour at a time stirring constantly with a whisk to avoid lumps.
Add the remaining milk, oil, nutmeg and salt.
Continue stirring until it reaches the desired consistency, which should not be too thick but rather thin.

To finish
Now fry the crêpes on both sides in a pan with a little oil.
When they are ready fill them out with the mixture of tofu and herbs, roll, place them on a baking pan previously greased with a little oil and cover with the sauce.
Sprinkle the surface with sesame seeds and bake in a preheated oven at 200° C for about 20 minutes.

Variants
As a filling, instead of kale you can use spinach or ribs, or sautéed radicchio chicory with onion or leeks with soy cream and curry powder, or potatoes and cabbage with coconut milk ... loose rein to imagination and be creative to your liking!
---
---
---
---
---
Notes
Thanks to Emanuela Barbero, webmaster di Vegan3000 e autrice di libri di cucina vegan

SCHEDA
Tempo di preparazione: circa 30 minuti + 20 minuti di cottura in forno
Difficoltà: medio-alta, è necessaria una buona manualità