Spelt short pastry for pies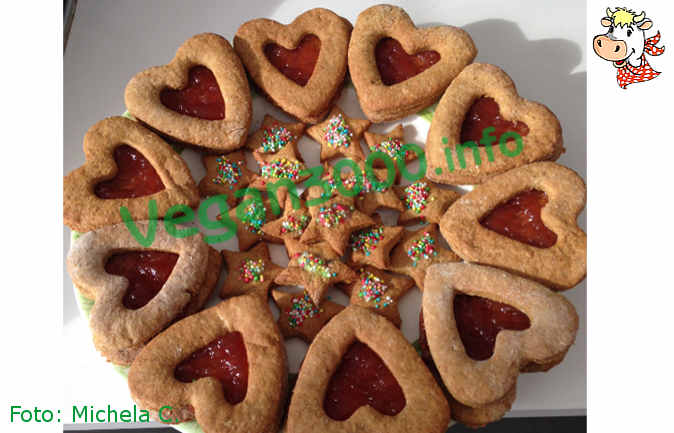 Disclaimer
This translation has been done by an automatic system, therefore we apologize if it isn't perfect. If you find any mistake or you have any suggestion for a better translation, please contact us.
Ingredients
200 g wholemeal spelt flour
50 g of corn starch
100 g sugar
3 or 4 tablespoons extra virgin olive oil
1 tsp baking soda
1 satin teaspoon of vanilla extract or grated lemon zest
1 pinch of salt
a bit of soy milk (or water)
Instructions
Place the flour in the shape of a volcano on a work surface, add oil and knead vigorously.
Add the remaining ingredients and add water or soy milk, a little at a time, and continue to knead without becoming discouraged!
Reach a certain compactness (if too sticky, add a little more flour) wrap the dough with baking paper or clean cloth and let it rest in the fridge for half an hour.
Roll out the dough with a rolling pin or your hands (flour before the table, hands or rolling pin).
Now put it in a baking pan previously greased, saving some dough for the strips to put on.
Add the jam and bake at 200° C for 20 minutes.
---
---
---
---
---
Notes
(Thanks to Giovanni)
Your comments
Ho provato ma la marmellata che ho messo sopra è affondata amalgamandosi con la pasta frolla... secondo me invece dell'amido andrebbe aggiunta farina (per il glutine che lega l'impasto)
- Luca -
al posto del bicarbonato io uso una bustina di lievito per dolci ed il risultato è buono: la marmellata non sprofonda, il sapore è delicato (poco dolce per chi ha gusti tradizionali). L'ho già rifatta 5 volte variando marmellata. Ora cerco disperatamente altre ricette dolci con farro.... Suggerimenti?
- maria -
ho fatto la torta allo yogurt ma con la farina di farro e lo zucchero di canna. con il lievito naturale di erboristeria. e venuta abbastanza bene. provare x credere.ale
- ale -
Il bicarbonato la rende amara da essere inmangiabile,consiglio il lievito in sostituzione
- anna -
L'ho già provata, è ottima per tutti, apprezzata anche dai non vegani. Sia per biscotti che per crostate.
- viviana -
Have you tried these recipes?