Indonesian tofu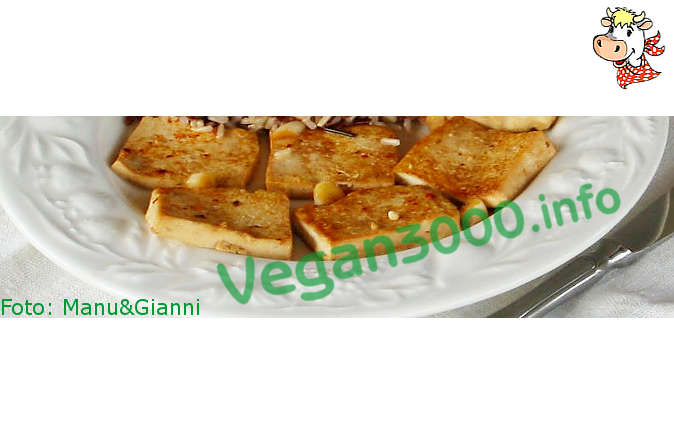 Disclaimer
This translation has been done by an automatic system, therefore we apologize if it isn't perfect. If you find any mistake or you have any suggestion for a better translation, please contact us.
Ingredients
1 pack of tofu - oil - sweet soy sauce - chilli - garlic - steamed white rice as a side dish
Instructions
A basic Indonesian recipe including fried tofu slices, sprinkled with sweet soy sauce with a hint of chilli and garlic juice.
Serve with steamed white rice and you'll have an exotic dish, quick and easy to prepare.
---
---
---
---
---
Your comments
Variante:
Soffriggere il tofu in padella, in olio in cui aver fatto eventualmente soffriggere dei pezzettoni di aglio e zenzero schiacciati con il batticarne o altro attrezzo similmente massiccio e pesante.
Poi condirlo con una salsina fatta di soia ***dolce***, aglio tritato e se vi aggrada una punta di sambal (pasta di peperoncino).
Si mangia anche freddo.
(Non vi spaventate, gli ingredienti si trovano al supermercato, sono quelli della Suzi Wan).
- Mire -
Personalmente utilizzo spesso il riso 3 colori (reperibile nei negozi di alimentazione naturale), un misto di 3 risi: riso lungo integrale (ribe), riso rosso selvatico integrale, riso nero selvatico (zizania palustris).
Rende questo piatto ancora più ricco e gustoso, oltre a regalargli una gradevole presentazione multicolore (anche l'occhio vuole la sua parte! ;-) ).
- Manu -